Tonny Carlsen started playing billiards in 1975, since he was only 10 years old. He has played billiards for many years. Very early in his childhood he was very ambitious and it has definitely paid off. He trained hard to become very good. There was no doubt that he was talent in a very young age. Tonny Carlsen was only 12 years old when he debuted in the best league – the Division in Denmark. When he was 19 years old he became winner of the The Danish Championship. He attended as a debutant and he became the first debutant in history who actually won the championship. He was very excited and his passion for billiards kept growing.
Tonny Carlsen kept practicing billiards and he became very good. In 1990 he wins a big tournament in Belgium where he played with some of the world's greatest players. Tonny admits "It was hard to play among the most talented players but at the same time it was a very good challenge".
In 2000 Tonny Carlsen participated in Individual World Championships in France as No 2. Then in 2001 he participated in Individual European Championships, in Denmark as No 2.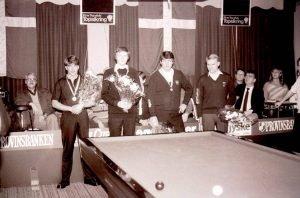 The picture showsTonny Carlsens first Danish Championship in 1986.
2000 and 2001 was some great years in Tonny Carlsens career. If we look back in the timeline he has now won many Championships. He has won the Danish Championship in billiards seven times.
Tonny Carlsen has been playing billiards in many years and he still participates in big tournaments. His interest in the sport is still growing. This is also one of the reasones he developed the interactive billiard system. He had the idea above 18 years ago where he tested different equipment and possibilities. The effects of technological advancement makes it possible now. And the product is not expensive as it could be if it was developed years ago. It took him three years to develop the system and he has invested lots of time and money into this.
Tonny Carlsen is passionate about billiards and wants to make a difference to the sport. "Its all about giving something back", Tonny Carlsen states.